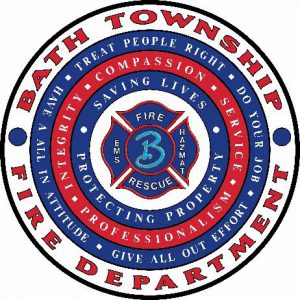 Bath Township Fire Department Strategic Plan 2023 – 2026
Mission Statement:
The Bath Township Fire Department is committed to the preservation and protection of life and property through professional service, education, and prevention.
Updated Core Values:
Integrity, Compassion, Service, & Professionalism
S.W.O.T. Analysis • January 2023
Strengths
Excellent new hire and ongoing CE/training program
Diverse workforce
Positive work environment
Customer service oriented
Invest in our employees
Experienced leadership team
Very nice facility
Well maintained and newer apparatus and equipment
Strong record of employee safety
Great outreach in our community
Good prevention, inspection, and education program
Aggressive EMS protocols and personnel
Pro employee work culture
High quality staff
Strong emphasis on education, professional development, and credentialing
Good relationship with the firefighter's union
Strong community support
Weaknesses
Low staffing levels
Difficulty recruiting employees
High employee turnover
Inadequate funding
Inexperienced employees
Difficulty covering simultaneous calls
Opportunities
Implementation of the Explorer program
Work closely with Apollo Career Center – HS & Adult Ed
Develop closer relationship with Rhodes State College Paramedic program
Continue to collaborate with the BTFD Foundation Inc.
Promote our lateral transfer program
Tell our story – Strong marketing, social media, & PR
Pursue local, state, & federal grants
Establish support for future growth with our elected officials and residents
Collaborate with local businesses and industry – develop strong relationships
Ensure our employee pay and benefits remain competitive
Explore part time to full time training path
Provide improved health and wellness opportunities for employees
Continue to make training and education accessible
Explore more ways to utilize MABAS and ensure safe staffing levels
Complete OAPFF/IAFF GIS study
Threats
Weak economy – Inflation – Stock market volatility
Community may have poor appetite for property tax increase
Fire Departments in the region offering high wage & benefit packages
Fire Departments in the region exceeding our staffing levels enticing employees to leave
Population numbers dropping – new housing stagnant
Competing with schools for tax dollars
Low number of potential candidates applying for Fire/EMS jobs
Increasing call volume
Reliance on tax abatements to entice business/commercial growth
Dependance on our agency from mutual aid departments
Funding for future capitol needs is not currently planned
Aging population may result on more strain to EMS
Large number of schools, universities, parks, and reservoirs result in no tax benefit
Increasing cost of housing making it difficult for employees to live in our community
Dependance on our agency from local industry and manufacturing
Rising cost of employee health insurance
Increased cost of tools, equipment, and supplies
Goals
1.  In conjunction with the fire department leadership team, union, non-bargaining employees, and our elected officials, establish future staffing levels based on data, industry standards, regional averages, and the needs our community which will allow us to handle multiple EMS, respond to emergencies which require multiple pieces of apparatus, and provide enough firefighters at the scene of a working structure fire to affect victim rescue and extinguishment simultaneously.
2. Create a committee of appropriate parties to analyze the future personnel funding needs of the department, as well as the future capital expenses and formulate a specific funding plan. This most likely will include a levy increase resulting in the need to establish a strategy to garner community support.
3. Through competitive wages, benefits, culture, leadership, and work environment; develop a plan to ensure that Bath Township Fire Department is an "employer of choice" whereby new hires are happy and satisfied for the long term. Promote a pro-employee, diverse, and inclusive work setting where all employees feel valued.
4. Ensure strong collaboration with our community partners, schools, career centers, and other appropriate organizations to recruit the highest quality candidates for future employee positions and further, evaluate our current hiring practices to ensure we are evaluating all candidates thoroughly.
5. Provide a robust and consistent training program for all employees. Ensure that high quality continuing education programs are offered regularly and can be easily accessed by all staff. Encourage employees to gain new certifications and credentials. Assist department leaders in obtaining higher education including degrees in related fields. Create a culture of training, education, and professional development for all personnel.
6. Ensure that every contact we have with the community is a positive experience by providing caring, compassionate, and friendly interactions with high quality services by well skilled, professional firefighters, paramedics, EMT's. Create a workforce which takes an aggressive approach to both EMS care and fire suppression. Continue to make customer service a high priority.
7. Make the safety of our employees a high priority by providing them with appropriate personal protective equipment, tools, and apparatus, as well as the leadership, training, and education to ensure firefighter safety. Also, ensure that access to health and wellness services are available. Further, continue to establish policies and procedures to reduce firefighter occupational cancer. Ensure that mental health services and peer support are readily available for all staff.
8. Share our story: through our website, social media, station tours, career events, health fairs, and other related community gatherings, we will work hard to promote the good work being done every day by our personnel. Establish practices to ensure excellent communication with the community we serve. Constantly look for opportunities to engage face to face with our residents.
9. Evaluate current outreach programs to ensure that we are doing as much as possible to provide high quality public education to our community. This shall include fire prevention, both residential and commercial, as well as injury prevention for youth and adults.
10. Ensure that all department Standard Operating Guidelines (SOGs,) policies, general orders and work rules are up to date, appropriate, and in place to create a safe work environment for all employees while also being fair, consistent, and uniform.