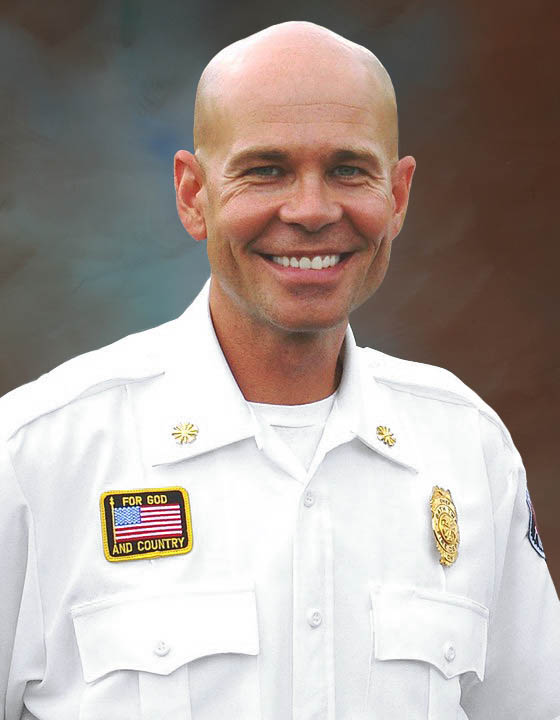 Joseph L. Kitchen, OFC, is Fire Chief of the Bath Township Fire Department. He joined the department in 1990, as a volunteer. He served six years as lieutenant, and was appointed to the position of Fire Chief in April of 2002.
Chief Kitchen is a graduate of Bath High School, Apollo Career Center Public Safety Program, and Rhodes State College where he graduated with honors and was inducted into the Phi Theta Kappa International Honor Society. He also completed training courses at Bowling Green State University, Franklin University, and the Ohio Fire Academy. He has completed Fire Officer I, II and III, and holds degrees in Emergency Medical Services and Technical Studies / Fire Science.
He is a Level II firefighter, paramedic, fire investigator and a certified fire safety inspector. Chief Kitchen has 33 years of service in Fire and EMS and holds ACLS, PALS, GEMS, PHTLS & PEARS certifications. Additionally, he is a hazmat / weapons of mass destruction technician, an assistant fire service instructor, and an EMS continuing education instructor. Chief Kitchen is a graduate of the Advanced Exterior Firefighter II program at Texas A&M University. In 2015 he obtained credentialing from the Ohio Fire Chiefs' Assn. as an "Ohio Fire Chief Officer." In 2016 he completed the John Maxwell Leadership Laws course through the OFCA. He is also a trained Youth Fire Setter Educator.
With a background in industrial firefighting, planning, and emergency response, Chief Kitchen works closely with major corporations including, Ford Motor Company, Procter & Gamble, Dana Corporation, PPG/Meto-Kote Corp., Nickles Bakery, United States Plastics, & Nelson Packaging Co. In 2017 Chief Kitchen was appointed to the advisory board of FM Global, a Rhode Island-based mutual insurance company, with offices worldwide, that specializes in loss prevention services primarily to large corporations throughout the world in the Highly Protected Risk (HPR) property insurance market sector.
He is very proud to be an active member of the Ohio Fire Chiefs' Association and currently serves on its Board of Directors as President Elect. Additionally, he is a member of the Health, Safety, & Wellness, Marketing, and Membership committees. In 2013, he was named a Fellow of the Ohio Fire and Emergency Services Foundation. In 2019 he was appointed by Ohio Governor Mike DeWine to serve on the Ohio School Safety Work Group.
Chief Kitchen is a member of the Fraternal Order of Leatherheads Society/Central Ohio FOOLS, the International Society of Fire Service Instructors, and the National Fire Protection Agency (NFPA.) He is an associate member of the Allen County Township Association, and a member of the Ohio Township Association.
Chief Kitchen served 17 years as chairman of the EMS Program Advisory Board at Rhodes State College. He is a member of the Allen County Safe Community Coalition, the Allen County Health Department Emergency Preparedness Committee, the Allen County Regional Planning Fatal Crash Review Committee, the Apollo Career Center Educational Foundation Board, past member of the Local Emergency Planning Committee, and various other organizations. He also serves as Allen County coordinator for the Ohio Fire Chiefs' Emergency Response Plan.
Chief Kitchen is a member of the International Association of Fire Chief's, National Registry of Emergency Medical Technicians, Vice-President of the Northwest Ohio Fire Chief's Association, Allen County Hazmat Team, and served as President of the Allen County Fire Chief's Association for many years.
He is a contributor to Fire Engineering Magazine's Online Blog Community and has served as a Fire Department Instructors Conference (FDIC) instructor. Chief Kitchen has served as a presenter and instructor at multiple and various conferences and seminars across the U.S.
In 2012, he was awarded "Fire Officer of the Year" by the Ohio Department of Public Safety at the Ohio Fire Service Hall of Fame and Fire Awards Ceremony in Reynoldsburg, Ohio. Chief Kitchen has also been the recipient of the Apollo Career Center "Citizen of the Year Award," Rhodes State College "Outstanding Alumni Award," Lima Allen County Safe Community Coalition "Fire Safety Award," American Heart Association "Heartsaver Hero Award," and the St. Rita's Medical Center "Greg King Star of Life Award." In 2017, Chief Kitchen has been presented with both the "Wemmer Vocational Service Award" and the "Hulksen Youth Service Award" from the Lima Rotary Club. In 2022 he received the "Lifetime Achievement Award from Lima Memorial Health System.
He is proud to serve the Lima/Allen County community in a variety of ways, including as a member of the Lima Rotary Club, where he regularly participates in club projects and programs. He is a regular blood donor with the Allen County Chapter of the American Red Cross, a Salvation Army holiday bell ringer, and a West Ohio Food Bank volunteer. Chief Kitchen also serves as a member of the Bath Township Fire Department Foundation.
Chief Kitchen is strongly committed to working with Bath Local Schools on a regular basis. He can often be found speaking to students about leadership, careers, and decision making. He has been teaching fire safety to Bath students for three decades. He has also participated in health fairs and provided training to school staff in areas such as emergency preparedness and fire prevention. In 1995 he organized the first Mock Crash to demonstrate the consequences of unsafe driving including impaired and distracted youthful drivers. Approximately 3,600 Bath High School students have participated in the program with Chief Kitchen. He serves as an advisor for the Bath High School Interact Club which is a grades 9-12 club focused on community volunteerism and dedicated to "Service Above Self." He is a member of the Bath Boosters and the High School Principal's Advisory Committee. He is a varsity football and basketball season ticket holder and can often be found cheering on his Wildcats and Wildkittens. In 2019 he was inducted into the Bath High School Hall of Fame.
Chief Kitchen resides in Bath Township where he is a member of the Country Club Hills Neighborhood Association. He is the father of a daughter who is a graduate of Bath Local Schools and attends the Ohio State University in Columbus, Ohio. He enjoys spending time with family, speaking about fire service to local organizations, teaching, and training new firefighters and fire officers. Chief Kitchen enjoys attending live music venues, concerts, and is an avid collector of vinyl records. He is a fan of the Cincinnati Reds and often visits Great American Ballpark.
You can follow Chief Kitchen on Twitter @chiefjoekitchen