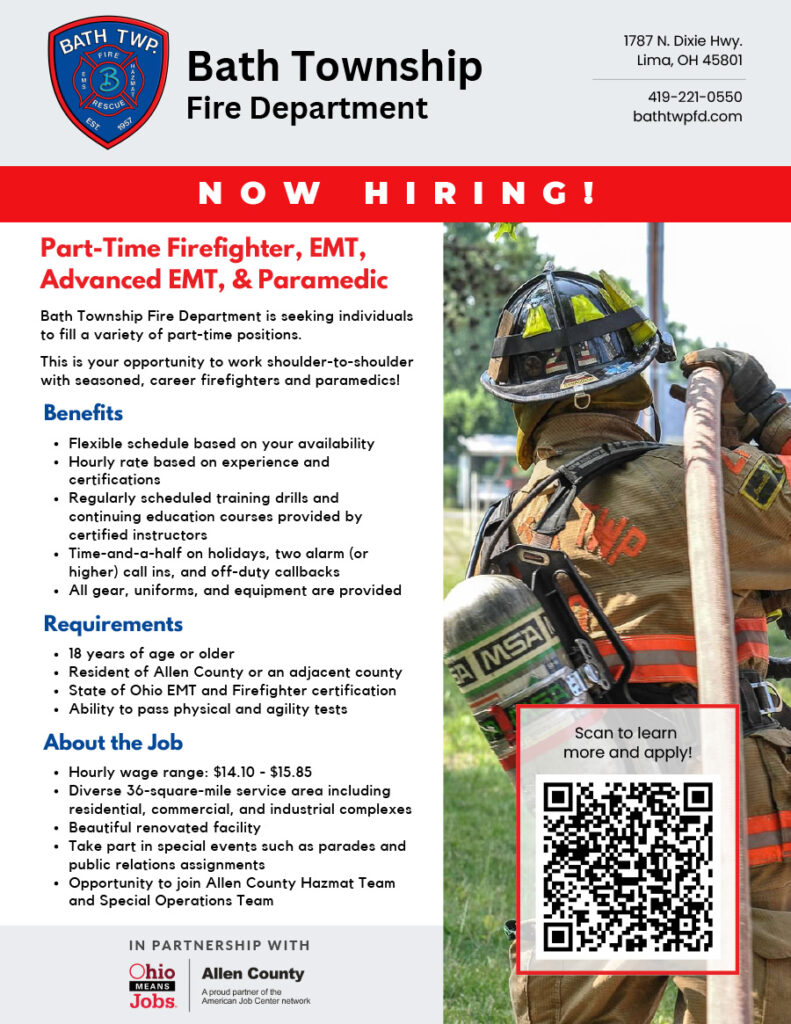 BATH TOWNSHIP FIRE DEPARTMENT1787 N. DIXIE HWY.
LIMA, OHIO 45801
(419) 221-0550
JOB POSITION

Part Time Firefighter I and II, EMT, Advanced EMT or Paramedic
POSITION DESCRIPTION
The Bath Township Fire Department is seeking individuals to fill part-time positions. The hours will be multiple and various. There is a one (1) year probationary period.
BENEFITS:
Flexible schedule based around your availability
Hourly rate according to your certifications
Approximately 1800 calls annually
Diverse 36 square mile service are including residential, commercial, & industrial
Daily training drills and weekly CE courses provided by certified instructors, all paid
special events such as parades, public relations, and stand bys, all paid
Ability to join Allen County Hazmat Team, all hours paid
Special Operations Team conducting rope, confined space, and technical rescue
Time & 1/2 on all holidays (11 paid holidays)
Time & 1/2 for all 2nd alarm or higher call ins and off duty call backs
All gear, uniforms, and equipment provided
Ability to attend conferences seminars, and training workshops
Opportunity to work shoulder-to-shoulder with seasoned career firefighters and paramedics
Assigned a seated position on a first out engine company
Beautiful facility fully renovated in 2012
Excellent experience to build your resume
State of the art equipment and apparatus
Comprehensive new hire orientation
Positive work environment
Tobacco free workplace
REQUIREMENTS:

18 years of age
Resident of Allen or adjacent county
Valid Ohio driver's license
State of Ohio EMT Basic certification (or higher)
State of Ohio Firefigter I certification and ability to obtain Firefighter II within 24 months (employer paid)
Must pass CPAT or Firefighter Mile physical agility test
Successful completion of background check, both driving and criminal
Pass drug screening and medical evaluations
Bath Township Fire Department is an equal opportunity employer and is a drug-free workplace.
Have Questions About Our Career Opportunities? Contact Us and we will contact you as soon as possible.
JOB POSITION

Intermittent Firefighter / EMT
POSITION DESCRIPTION
CLASS TITLE:(Part Time) Firefighter/EMT or Paramedic
WORKING TITLE(S):Firefighter/EMT or Paramedic
FLSA STATUS:Non-exempt
PAY STATUS: Resolution/Motion
EMPLOYMENT STATUS: Intermittent
JOB RESPONSIBILITIES:
In addition to the following, performs other related duties as required.
Under direction, performs fire prevention, suppression, and rescue activities; performs emergency or other medical care functions; cleans, repairs, and maintains facility and equipment; prepares records and reports; performs public relations activities.
QUALIFICATIONS: 
Any combination of training and work experience, which indicates possession of the knowledge, skills and abilities, listed below.  An example of an acceptable qualification for this position is:
High school diploma or GED; must be at least 18 years of age; must reside, or be willing to relocate, in Allen County, Ohio or adjacent county. Must possess Ohio Firefighter Level I or II certification and a valid Ohio driver's license.  Must possess state certification as an EMT or Paramedic.
ESSENTIAL FUNCTIONS OF THE POSITION:
For purposes of 42 USC 12101.
Performs fire prevention, suppression, and rescue activities; responds to fire alarms; makes openings in burning buildings for ventilation and entry; lays and connects hose lines; operates nozzles directing water streams; operates portable chemical fire extinguisher, axes, claw tools, and other equipment; performs salvage operations at fire scenes (e.g., covering furniture, mopping floors, cleaning debris, etc.); drives and operates all vehicles (e.g., pump and ladder trucks, aerial bucket truck, automobiles, etc.); operates fire suppression equipment; raises and climbs ladders; prevents the spread of fire and protects property from water damage; tests fire hydrants for flow, pressure, condition, accessibility, and location; assumes command of fire or emergency scene in absence of an officer (e.g., evaluates situation, determines appropriate methods and procedures to be used, directs and coordinates activities of firefighters and other agencies on scene, etc.); administers pre-fire planning program (e.g., pre-attack plans, target hazards, etc.); communicates with dispatcher and safety personnel in person and via two-way radio.
Performs emergency or other medical care functions; responds to rescue calls; operates ambulance and provides emergency medical treatment to injured and ill persons (e.g., provides bandaging, administers oxygen and CPR); immobilizes fractures and administers other first aid procedures; removes persons from emergency situations; administers IVs; assists in childbirth; utilizes blood pressure cuff, stethoscope, IV kit, backboards, and other related equipment; monitors and interprets EKGs; defibulates cardiac patients; inserts EOA and ET tubes; administers medication; monitors cardiac telemetry; maintains radio communication with hospital; performs all duties according to certification standards as set forth by the State of Ohio.
Cleans, repairs, and maintains facility and equipment; checks equipment and performs tasks to ensure proper operation of emergency and firefighting equipment (e.g., tests pumps, fire hose, ambulance equipment, etc.); checks, fills, and changes oxygen cylinders; checks and maintains oxygen masks; conducts equipment inventory as needed; works at a desk and answers telephone/radios; performs general yard work around station (e.g., mows grass, trims shrubs, shovels snow, etc.); cleans and maintains dormitory area, garage, and offices.
Prepares and submits records, reports, or other documentation as required (e.g., fire reports, EMS run reports, inspections, medications administered, etc.).
Performs public relations activities; inspects residential, commercial and other buildings for hazards with corrective measures being issued, as well as fire pre-planning; takes an active part and participates in public education programs; communicates with citizens in the public when required; conducts station tours and lectures as required.
Must demonstrate regular and predictable attendance; attends professional education and training sessions, seminars and workshops, as assigned; maintains required licenses and certifications.
OTHER DUTIES AND RESPONSIBILITIES:
Performs other duties, as required.
KNOWLEDGE, SKILLS AND ABILITIES
Necessary to perform duties (* indicates developed after employment).
Knowledge of:  fire suppression and prevention techniques and equipment; fire safety and enforcement laws; emergency medical treatment/paramedic techniques and equipment; safety practices and procedures; geographic layout of Township; public relations; building maintenance and repair procedures; equipment and vehicle repair procedures.
Skill in:  tracing a fire from its origin; operation of emergency vehicles, equipment, and instruments; operation of aerial ladder, pumps, and other fire suppression equipment; computer operation.
Ability to:  recognize life threatening and emergency situations and take appropriate action; exercise sound judgment; carry out instructions in written, oral, picture, or schedule form; cooperate with co-workers on group projects; develop and maintain effective working relationships with employees, supervisors, media, general public, and other safety officials; demonstrate physical fitness; work under hazardous and stressful conditions; diagnose equipment malfunctions and take appropriate corrective action; communicate effectively; prepare and deliver speeches and presentations; prepare and maintain accurate documentation.
EQUIPMENT OPERATED
Hazardous materials monitoring equipment, pump and ladder trucks, aerial bucket trucks, automobile, fire suppression equipment, portable chemical fire extinguisher, axe, claw tools, fans, computer, office equipment, and any other related equipment.
LICENSURE OR CERTIFICATION REQUIREMENTS
State of Ohio motor vehicle operator's license; Ohio Firefighter Level I or II, and Ohio EMT or Paramedic with related certifications.
This position description in no manner states or implies that these are the only duties and responsibilities which may be performed by the position incumbent. The incumbent will be required to follow the instructions and perform duties required by the Township Fire Chief and/or Trustees.
Bath Township Fire Department is an equal opportunity employer and is a drug-free workplace.
Have Questions About Our Career Opportunities? Contact Us and we will contact you as soon as possible.