Bath Township Fire Hydrant Maintenance 2020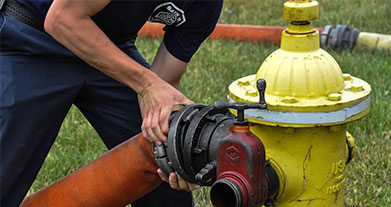 Fire Department personnel from several area agencies will be conducting spring fire hydrant maintenance and flushing on area township and city fire hydrants beginning Friday, May 1, 2020. Testing will last about three to four weeks in the City of Lima, City of Delphos, American Township, Bath Township, Perry Township, and Shawnee Township. Fire hydrant maintenance will take place during regular business hours.
Operations at all fire departments have been modified in many ways due to the COVID-19 outbreak and your local firefighters will be working hard to comply with all social distancing recommendations while conducting this work.
Residents may notice some discoloration of water when the flushing takes place in their neighborhood. If you experience a discoloration of water, turn on your plumbing fixtures until the water runs clear. It is best to run an outdoor fixture, or a cold-water tap in a laundry tub or bathtub first until the water runs clear and then run water from other fixtures.
The fire departments realize that hydrant flushing may cause some minor inconvenience, however, the flushing program is necessary to maintain a good water supply for firefighting and to ensure that the hydrants are in good working order. The community's cooperation with the annual fire hydrant flushing program is appreciated.
Contact information:
Brian Berheide, Lima Fire Dept. Deputy Fire Chief: 419-221-5151
Joseph Kitchen, Bath Township Fire Chief: 419-221-0550
Tom Hadding, American Township Fire Chief: 419-339-3921
Justin Roberts, Perry Township Fire Chief: 419-221-2345 Kevin Streets, Delphos Fire & Rescue Chief: 419-695-2911
Todd Truesdale, Shawnee Township Fire Chief: 419-222-2986