Bath Township Fire Department Responds to Mobile Home Fire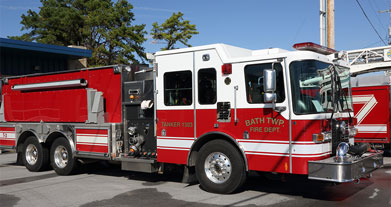 Bath Township Fire Department responded to a report of a mobile home on fire at 2145 N. Dixie Hwy. Lot #62, Lima, Ohio, in Bath Township at 11:48 A.M.
Upon arrival, firefighters found heavy fire at the rear of the structure. The fire was knocked down within about 15 minutes.The mobile home is rented by Kathleen Jones and is owned by Gary Stites of London, Ohio. Ms. Jones was home at the time of the fire and escaped with no injuries.Fire Chief Joseph Kitchen estimates the damage to be $3,000 to the structure and $1,000 to the contents. The renter advised she has no insurance and the park manager advised that it is unknown if the structure is insured.
No fire department personnel were injured. Lima Fire Department and the Allen County Sheriff's Office assisted at the scene of the fire.The cause of the fire is undetermined at this time and remains under investigation.Firefighters were on the scene for about three hours. The tenant is being assisted by the Allen County Chapter of the American Red Cross.
Contact person: Joseph Kitchen, Fire Chief: 419-221-0550